For the Mid-Autumn Festival 2022, Pan Pacific Hanoi is proud to present "Khai Hoa Dac Nguyet", an exquisite collection of innovative mooncakes, translating to "The Rhythms of Blossoms and The Moon". It takes the stunning visual of chrysanthemums in hopes of presenting the perfect choice for those seeking a meaningful gift for family and business partners.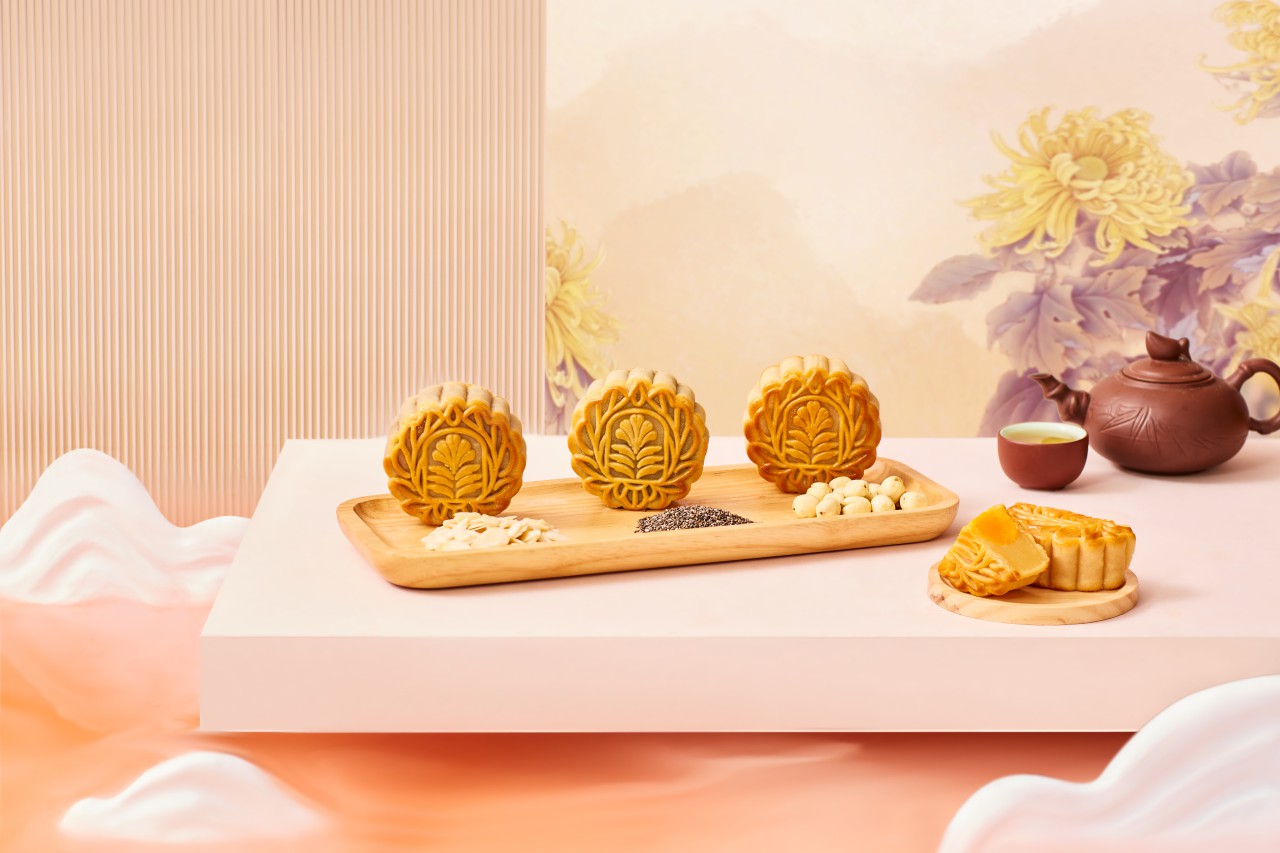 Our sparkly silk-textured box draws its inspiration from chrysanthemums, also known as one of the four "noble plants" in Vietnamese culture, which signifies courage, patience and optimism in adversity.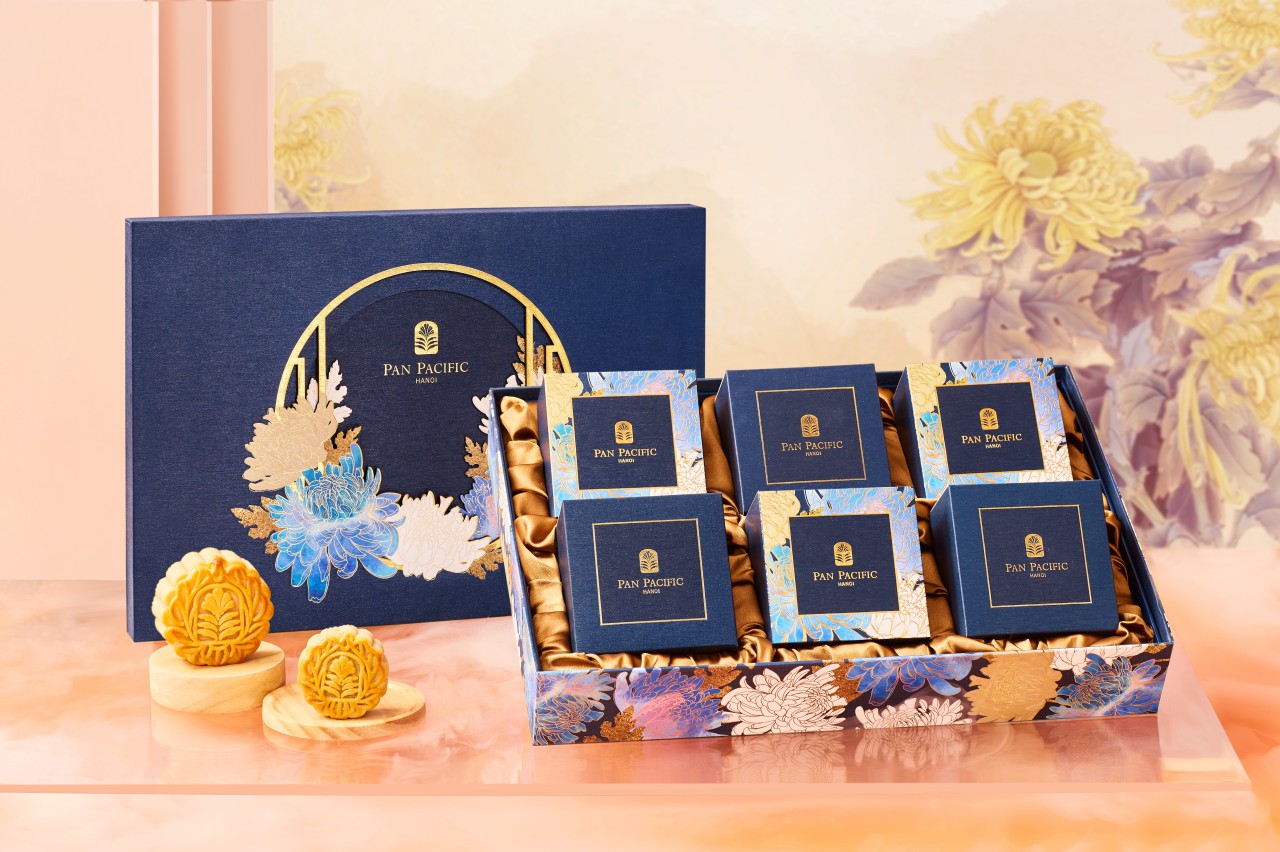 Apart from the vibrant tone of moonlight blue, the artwork ushers in the theme of blooming chrysanthemums, with a poetic window at its centrepiece representing abundant blessings and refreshing hope in autumn.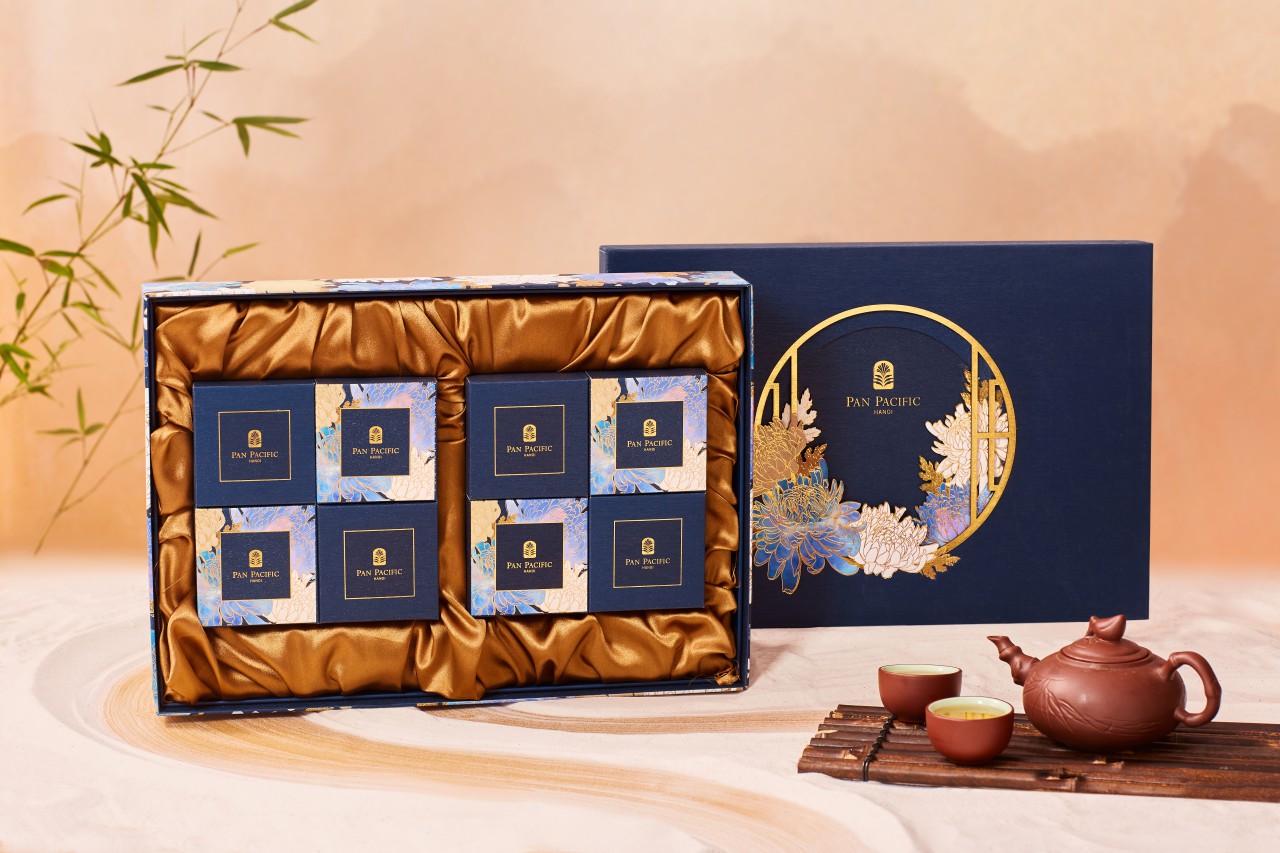 Moreover, the beautiful arch of chrysanthemums boasts a sophisticated design of stacked blossoms and border strokes that are embossed in gold emulsion. The subtle design signifies the beauty of gatherings, and peaceful moments with family and friends, that are priceless.
Masterfully handcrafted by our talented chefs, each mooncake features the natural flavour of top-quality ingredients, offering 06 types of premium fillings as an indulgence for all ages:
– Pineapple & Almond with Salted Egg Yolk
– Chocolate with Cream Cheese
– Jambon with Salted Egg Yolk
– Melon with Salted Egg Yolk
– Chia Seed with Salted Egg Yolk
– Lotus with Salted Egg Yolk.
Aside from mooncakes delicately formed in the classic sets including:  04 small (or large) cake boxes, 08 small cake boxes and 06 large cake boxes, Pan Pacific Hanoi has also got beverage and golden gift pairing selections that come with premium VIP sets.
Our contemporary box design features a separate lid and base showcasing the elegant presentation of our delicate mooncakes. A perfect gift for beloved ones and valued partners, "Khai Hoa Dac Nguyet" will delight and fill every recipient with joy.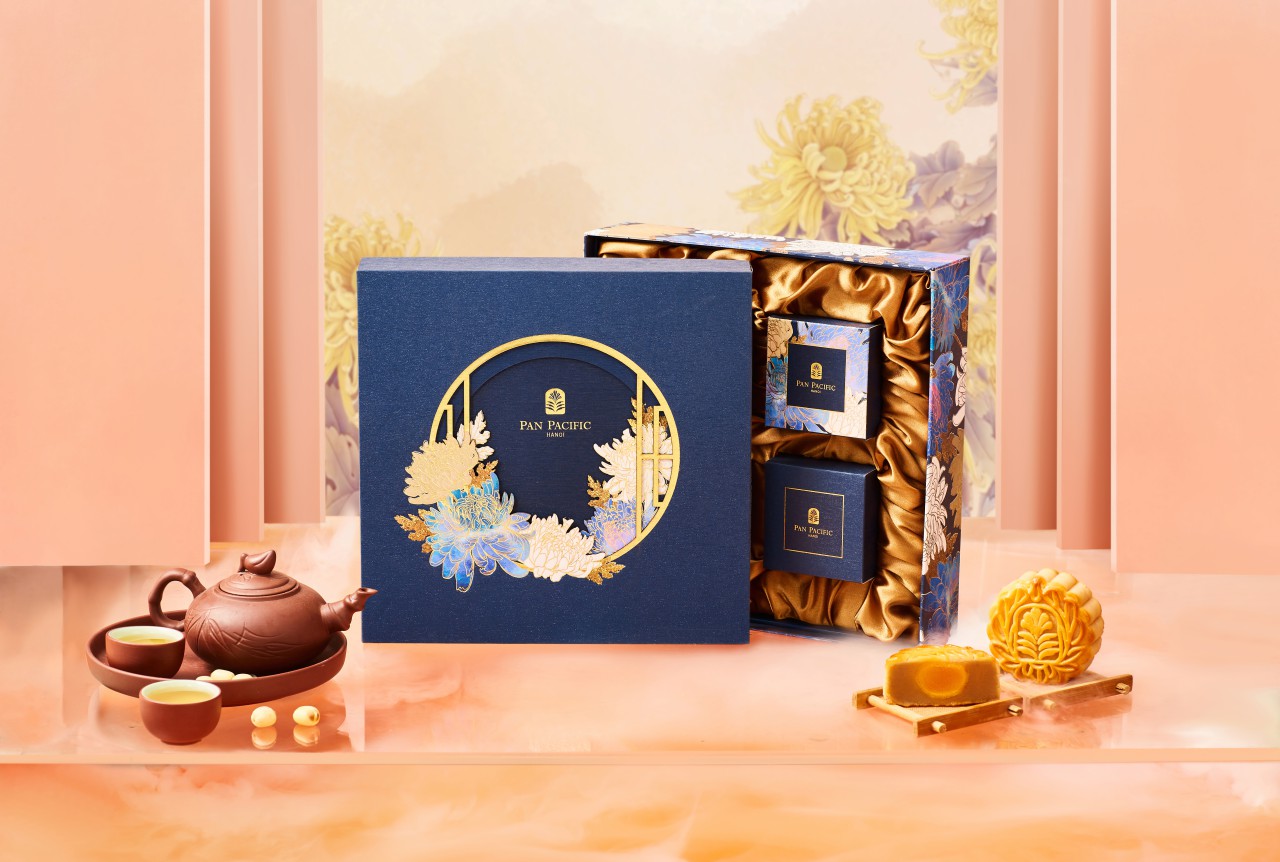 Mooncake collection is available for purchase at the Hotel lobby from 06 July to 10 September 2022, and priced from VND 658,000 (VAT excluded) onwards.
Exclusive offers:
01 complimentary mooncake box for every 10 boxes ordered by 10 August 2022

Great savings on a minimum purchase of 50 boxes

Complimentary delivery for a minimum purchase of 20 boxes to a single location within 5 kilometers from the hotel

Personalized company logo to be added complimentarily or at a special price for purchases by 10 August 2022
For more information, please contact:
Ms. Diep Anh: 0936 129 166 | Email: [email protected]
Ms. Hoa: 0836 685 656 | Email: [email protected]
Website: https://panpacific.co/3QPMrBT
Photos link:  https://bit.ly/3yh6p1i
About Pan Pacific Hanoi
Situated at the edge of the city centre, Pan Pacific Hanoi provides a harbour of tranquil balance in bustling Hanoi, with 329 fully-furnished rooms and suites presented magnificent views of the poetic West Lake, and an array of recreational facilities furnished with thoughtful touches for your complete relaxation. Especially, Pan Pacific Hanoi is well-known for delectable fusion of Western and Eastern gastronomy in Pacifica Restaurant (All-day dining), Ming Restaurant (Cantonese cuisines), Song Hong Bar and the panoramic rooftop bar The Summit promising the finest dining experience to your stay.
For more information: https://www.panpacific.com/en/hotels-resorts/vietnam/hanoi.html
Facebook: @panpacifichanoi
Instagram: @panpacifichanoi
About Pan Pacific Hotels Group
Pan Pacific Hotels Group is a member of Singapore-listed UOL Group Limited, one of Asia's most established hotel and property companies with an outstanding portfolio of investment and development properties.
Based in Singapore, Pan Pacific Hotels Group owns and/or manages nearly 50 hotels, resorts and serviced suites including those under development in 29 cities across Asia, Oceania, North America and Europe.
Voted "Best Regional Hotel Chain" by readers in Asia from 2017 to 2019, Pan Pacific Hotels Group comprises three brands: Pan Pacific, PARKROYAL COLLECTION, and PARKROYAL.
Sincerity is the hallmark of Pan Pacific Hotels Group. The Group is known to its guests, partners, associates and owners for its sincerity in people and the sense of confidence which alleviates the stresses of today's complex world.