After shedding off the layer of dirt and trash to put on a new "fresco coat", Phung Hung street resembles an ugly duck turned into a charming swan, reliving "the old Hanoi" through its nostalgic mural paintings.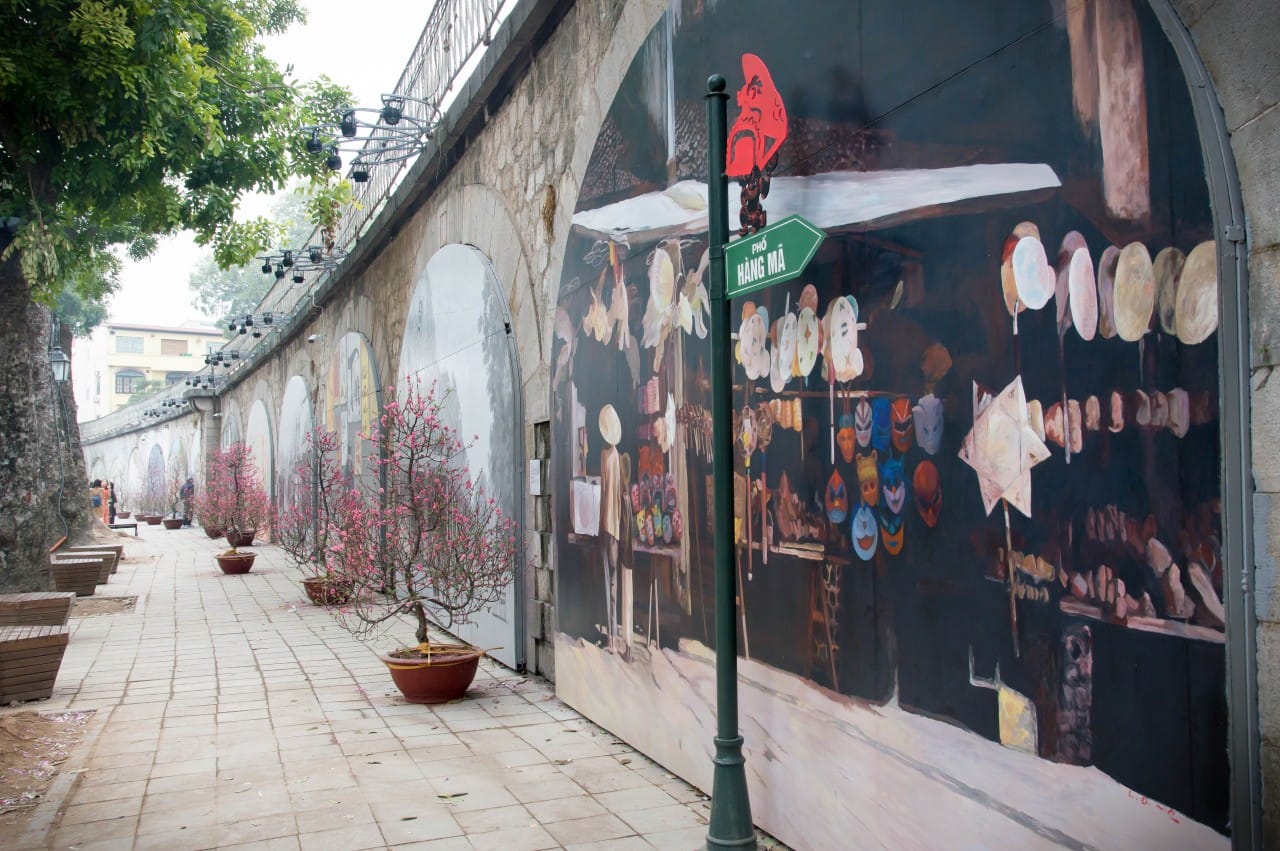 The historical region
Long Bien Bridge is an iconic symbol of Hanoi that has survived for more than 2 centuries. In 1900, an 800m stone bridge was built over the Phung Hung Street, on the foundation of the East wall, which had been demolished several years back, to carry the railroad leading to Long Bien Bridge. This massive stone bridge includes 5 spans and 127 arches; on top of the still-living-neighborhood. Before its restoration in October, 1954, the empty arc spaces underneath the bridge were home to the homeless, as well as a bomb shelter. However, during the 70s and 80s, due to security problems, the authority decided to fill the spaces to ensure the sustainability of the bridge and the safety of the railroad.
At first, Phung Hung Street was a sparse area. Up until 20-30 years later, the street was renovated and became quite charming, attracting more people to come and reside.  The new residents were mostly foreigners like the upper-class French and Chinese, Indian merchants, or Vietnamese traders.
Nowadays, this historical street is nothing more than a brick wall, a dumpster, and a street market site that has gradually fallen into oblivion.
The Phung Hung frescos
In order to revive the memories of "ancient Hanoi", the stone bridge over the Phung Hung Street has been innovated and transformed into an outdoor art exhibition. Each arch has become a painting portraying the city life of Hanoi now and then, from a food vendor lady, an old man on bicycle to traditional performances and arts. The street is now a new cultural zone for city dwellers and visitors. This project belongs to a program that brings art into living space. The effort is organized by UN-Habitat coordinated with the Korea Foundation and Hoan Kiem District People's Committee.
Executed by a group of Vietnamese and South Korean artists, this meaningful project does not only help to preserve the 1000-year-old culture of the capital, but also strengthens the relationship between the two nations of Vietnam and South Korea. After 3 months of execution the street was finally opened on February 3rd, right before the Lunar New Year. Hanoi is looking forward to many similar projects like this in the future.