Duravit, a global manufacturer of high-end sanitary ware and bathroom furniture, has successfully organized a Workshop with the theme "Riding on the Trends, Elevating Quality of Life" led by 2 Architects Son Dang and Tran Le Quoc Binh as well as Mr. Ngo Minh Dung, Sales Director of Duravit Vietnam, on September 14 at The Myst Dong Khoi Hotel, Ho Chi Minh City. The event attracted the participation of many designers, consultants, and constructors together with industry experts in Vietnam to discuss stunning bathroom design trends and how to apply them in daily life.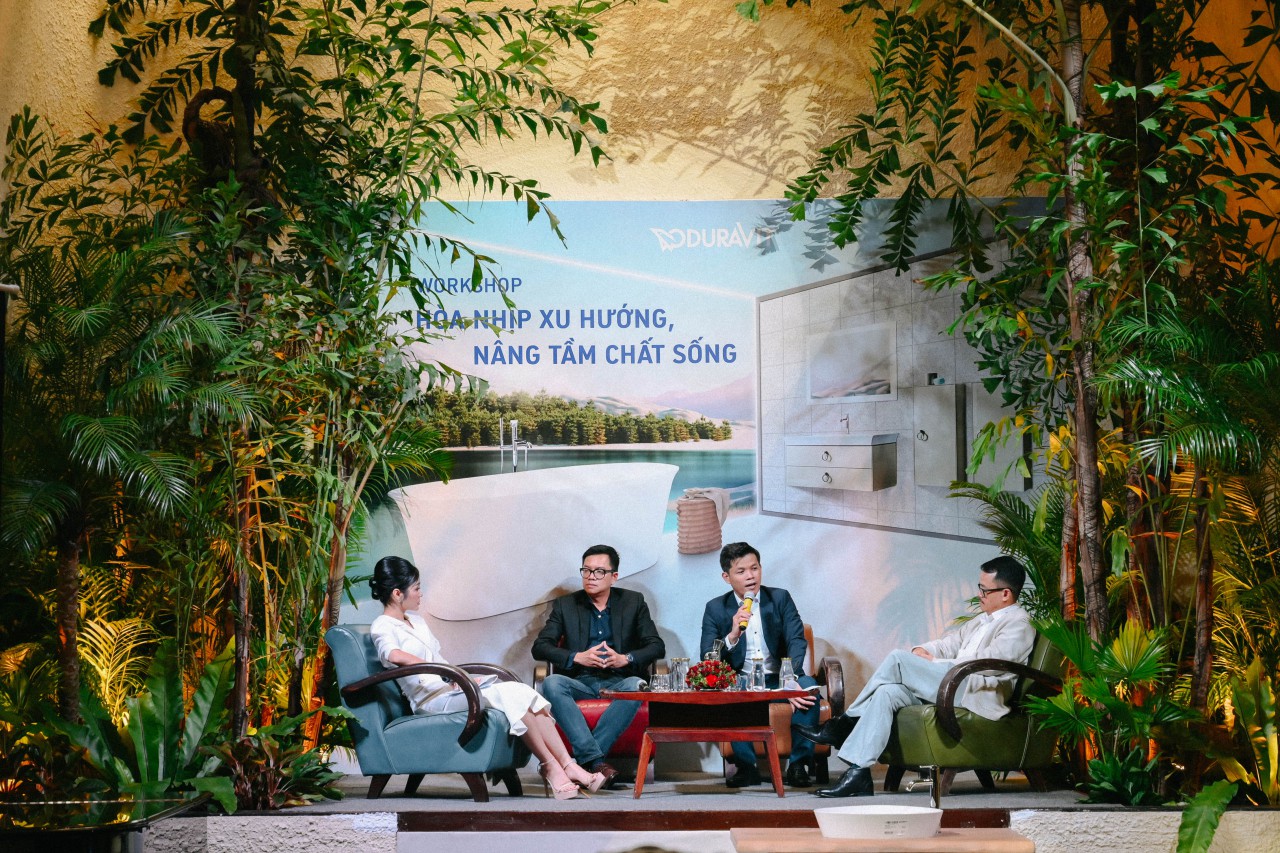 When the bathroom is an "oasis" to regenerate daily energy
Nowadays, along with the development of society, people's quality of life has also been significantly improved. People pay special attention to the living environment that is close to nature. Thus, green and modern living space is gradually becoming a trend and is favored by many people.
The latest bathroom design trends are no exception – it's a style that brings nature into everyday life and increases relaxation for homeowners. Besides, vacation-like design is also very popular. In the past, we needed to go to a faraway destination to find a vacation or peace after a stressful working time, but today, many people tend to regenerate energy in their own homes.
Sharing at the event, Architect Tran Le Quoc Binh said: "I want to emphasize the element of mental health care through design. In addition to the bed, the bathroom is where we begin and wrap up the day. Therefore, what happens in the bathroom will often be the source of the mood that follows the owner all day long afterward. With a design that takes advantage of natural green areas, the bathroom will bring users closer to nature and create a feeling of comfort through the wood color of the products used. The trend itself not only offers a sophisticated look but also conveys a sustainable angle in the materials used. One of the typical product lines that bring nature into the bathroom through materials such as wood and porcelain is the Cape Cod from Duravit. With Cape Cod, designer Philippe Stark has breathed fresh creativity into the bathroom as a place for the mind and body to regenerate and immerse themselves in nature. This is an important aspect that adds positivity and helps us relax in our own bathroom."
In addition, Architect Son Dang added on a trend that is increasingly attracting more and more Vietnamese consumers: "Homeowners increasingly focus on taking care of themselves and appreciating personal experiences. As a result, the lines and layouts in the bathroom are becoming softer with designs that have no angles to create a feeling of lightness and relaxation. The tables, lamps, shelves, sinks or bathtubs, are almost all elegantly designed instead of the vertical and rough structure as before."
Keeping up with the trend, bringing the soul to every project
During the workshop, architects and project consultants had enthusiastic sharing and discussions on how to apply bathroom design trends with lots of green space and relax for homeowners. "Amidst the hustle and bustle of life, the house needs to help the owner recreate the most genuine and original emotions, creating a peaceful accent in daily life. That is reflected in designs with subtle curves, such as Duravit's White Tulip collection, which impressed me so much. With a design inspired by the shape of a tulip blooming in the middle of nature, this collection helps homeowners feel closer to the environment. On the other hand, we can also enhance the experience in the bathroom with smart devices to minimize operation and manipulation such as the SensoWash® toilet with a bunch of advanced technologies," said Architect Son Dang.
Architect Tran Le Quoc Binh again suggested how to create a spacious space, close to nature through 2 collections of White Tulip and Cape Cod. "In the White Tulip collection, the suitability to the modern lifestyle is clearly demonstrated through its elegant beauty as well as its highly functional and timeless design. This product line also brings a relaxing experience to users with a wide range of cutting-edge technologies such as app-controlled toilets, self-closing and heating-enabled mirrors round up the urban quality checkmark. Meanwhile, the Cape Cod collection, which includes advanced DuraCeram® sinks and tubs with an aesthetically pleasing design, is an ideal choice that can suit any design need."
Bathroom interior design trends are all developed based on combining aesthetics, functionality, and sustainability. This is also the core element shaping future bathroom design trends. As a leading bathroom furniture brand with a reputation for over 200 years, Duravit has always innovated and developed diverse product lines to meet the needs of luxurious, modern, and timeless design for every project. In addition, Duravit also focuses on finding raw materials that have less impact on the environment. For example, all the timber that Duravit uses comes from the locality and must be certified as a sustainable plantation. This policy helps cut energy consumption in transportation significantly compared to importing from other places.
"Duravit has always been committed to enhancing the quality of daily life. We hope that the timeless designs from Duravit and the sharing from the guests today will inspire all the attendees to create more relaxing bathroom masterpieces to suit every personality and style, as well as optimal for the future," said Mr. Ngo Minh Dung, Sales Director of Duravit Vietnam.
About Duravit
Founded in 1817 in Hornberg, Black Forest of Germany, Duravit AG is now a leading global manufacturer of high-end bathroom furniture and sanitary ware. Today, the group has a presence in more than 130 countries and territories, with its core values revolving around groundbreaking innovations in timeless design, modern technology, and premium quality to deliver integrated experiences. By collaborating with world-famous designers such as Philippe Starck, sieger design, Christian Werner, Cecilie Manz, and many young talents such as Bertrand Lejoly and Kurt Merki Jr., the group has developed bathroom products that help improve the quality of daily life for people. Duravit's product portfolio includes ceramic glazed sanitary ware, bathroom furniture, bathtubs and shower trays, wellness systems, bidet toilets with showers, faucet systems, and accessories.
For more information about Duravit, please visit:  
Website: http://www.duravit.com   
Facebook: https://www.facebook.com/DuravitAGVN