Investors increasingly keen to hold quality assets as a hedge against macro uncertainty, with premium office especially coveted across the region.
Commercial and industrial segments drive performance across major Asia Pacific markets
China's domestic investors drive dealmaking in the office segment
Foreign buyers continue to be drawn to premium-grade offices in key Australian cities
Investors in Singapore pivot towards recession-resistant assets
Cheaper yen and interest-rate advantages boost foreign investor interest in Japan
Office tower in Seoul's in-demand office market sells for record-breaking unit price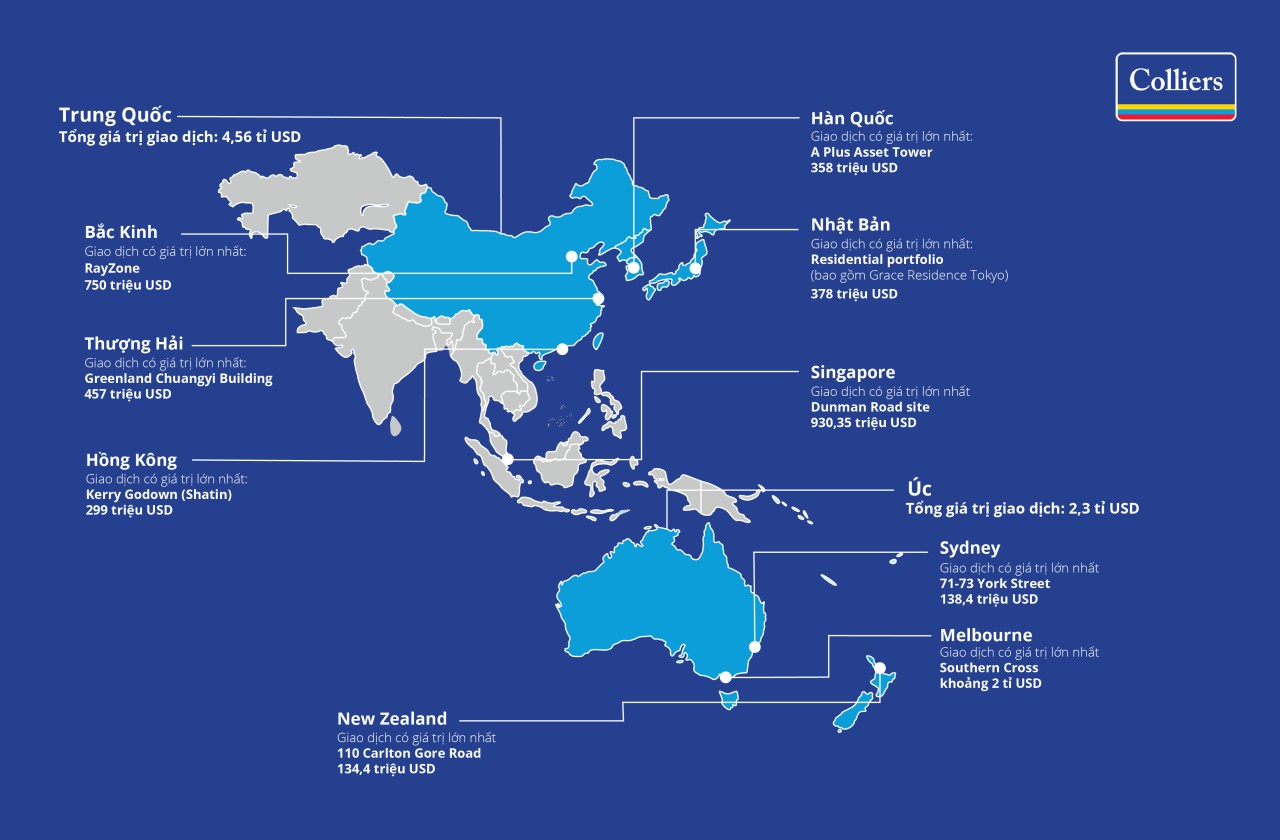 Leading diversified professional services and investment management firm Colliers (NASDAQ and TSX: CIGI) has released its Asia Pacific Market Snapshot Q2 2022 report, which highlights how major Asia Pacific real estate markets continue to retain the growth momentum achieved in the previous quarter. In the perspective of capital markets, Colliers' experts believe the positive sentiment would further fuel investments into real estate in the coming months.  
"In the face of global headwinds, domestic and international investors across the Asia Pacific region took careful approach with a long-term view in mind. Real estate sector retained the momentum for growth with healthy transaction volumes on premium assets across key regional markets. And, in Vietnam, the economy is proving its resilience amid global uncertainties with great potential for investment in commercial and industrial real estate segments." – said David Jackson, CEO, Colliers (Vietnam).
Below are some notable developments in key real estate markets in the Asia-Pacific region:
Australia and New Zealand: Both markets ended a challenging Q2 as the Reserve Bank of Australia and New Zealand raised interest rates to cope with inflation. This led to a reassessment from several institutional investors to review current holdings and investment strategy ahead of the second half of the year. Auckland market witnessed a slowdown in transaction while welcoming new supplies in hospitality segment thanks to the easing of border restrictions. Premium assets in major Australian cities continued to attract foreign investors, mainly from Singapore. Office, industrial and retail segments remained key movers of the quarter with total worth of deals reached more than USD2.3 billion. Despite economic volatility, Colliers expects investment sentiment to be restored thanks to the transparency and growth potentials of these markets.  
China: Demand from domestic investors for office assets drove transaction volumes in Q2 as the result of spurring interest from state-owned enterprises. Beijing recorded four transactions with a total value of nearly USD1.42 billion and total transacted area of approximately 340,000 sqm in Q2 2022. In Shanghai, end-users from technology, finance, textiles, and energy industry remained active with eight en-bloc purchases, combined value of USD1.27 billion. Business parks as well as industrial and logistics sectors prevailed in Guangzhou and Shenzhen, with the biggest deal belong to the mixed-use project Guangzhou Asian Games City at USD691 million. In the country's west, although no transaction was recorded in Q2, the business parks sector is expected to be an investment hotspot in the coming time as Xi'an city aims to be a hub for AI, 5G infrastructure and cloud computing.   
Hong Kong: Commercial property transaction volume rose 52 percent QoQ to reach USD2.2 billion as market participants made the most of relaxed social-distancing measures. However, there was also a wait-and-see sentiment among investors after the US Federal Reserve decided to hike rates. Nonetheless, Colliers experts believe sentiment will continue to improve thanks to the economic recovery and fueling investments from funds and real estate firms. Industrial assets remain the key mover while residential developments will continue to attract interest given the city's housing needs.
Singapore: Singapore's property market remained the momentum achieved in the past months, proving the healthy outlook of the economy. Year-to-date investment volumes reached USD12.798 billion or 62.4% of the value recorded in all of 2021. The main driver of activity in Q2 were government land sales, collective sales, and office sales. The biggest deal in Q2 belonged to the residential project Dunman Road site for USD930.35 million. Due to rising interest rates, the market witnessed a slowed pace of deals and an increasing demand for recession-proof assets such as premium office, logistics and retail properties.
Korea: Steady demand for core assets in Seoul's Gangnam Business District (GBD) helped drive investment volumes to USD2.8 billion. Notably, the quarter hit a new record of highest unit price from the sale of A Plus Asset Office Tower in GBD with a total of USD358 million. Limited supply combined with high demand led to a sharp increase in office unit prices and more major transactions are expected to close in the coming time as a number of large deals are ongoing such as IFC, Shinhan Finance Investment Building, and Seoul City Tower. However, investment volumes in prime office segment may decrease because of investors' conservative approach.   
Japan: A weak yen and widening interest rate led to a flurry of activity from foreign investors mainly from Europe, U.S, and Asia to set their sights on major cities outside Tokyo such as Yokohama, Osaka, and Nagoya. Office, residential and hospitality assets were key movers with a combined value of USD741 million in Q2. The relaxation of travel restrictions in H1/2022 made it easier for senior executives from investment firms to visit Japan, facilitating decision-making process and further accelerating cross-border investments in the coming quarters.   
Download the Asia Pacific Market Snapshot Q2 2022 report here.
About Colliers
Colliers is a leading diversified professional services and investment management company. With operations in 62 countries, our 17,000 enterprising professionals work collaboratively to provide expert real estate and investment advice to clients. For more than 27 years, our experienced leadership with significant inside ownership has delivered compound annual investment returns of 20% for shareholders. With annual revenues of $4.3 billion and $57 billion of assets under management, Colliers maximizes the potential of property and real assets to accelerate the success of our clients, our investors and our people. Learn more at corporate.colliers.com, Twitter @Colliers or LinkedIn.
Colliers commenced operations in Vietnam in 1996 and since then has grown to become one of the largest foreign real estate consulting service firms in the country. Colliers has offices in both Ho Chi Minh city and Hanoi, providing Capital Markets & Investment Services, Occupier Services, Valuation and Advisory Services, Project Management, and Real Estate Management Services. Contact Colliers (Vietnam) at [email protected], website: https://www.colliers.com/en-vn or follow us at https://www.facebook.com/colliers.vietnam.